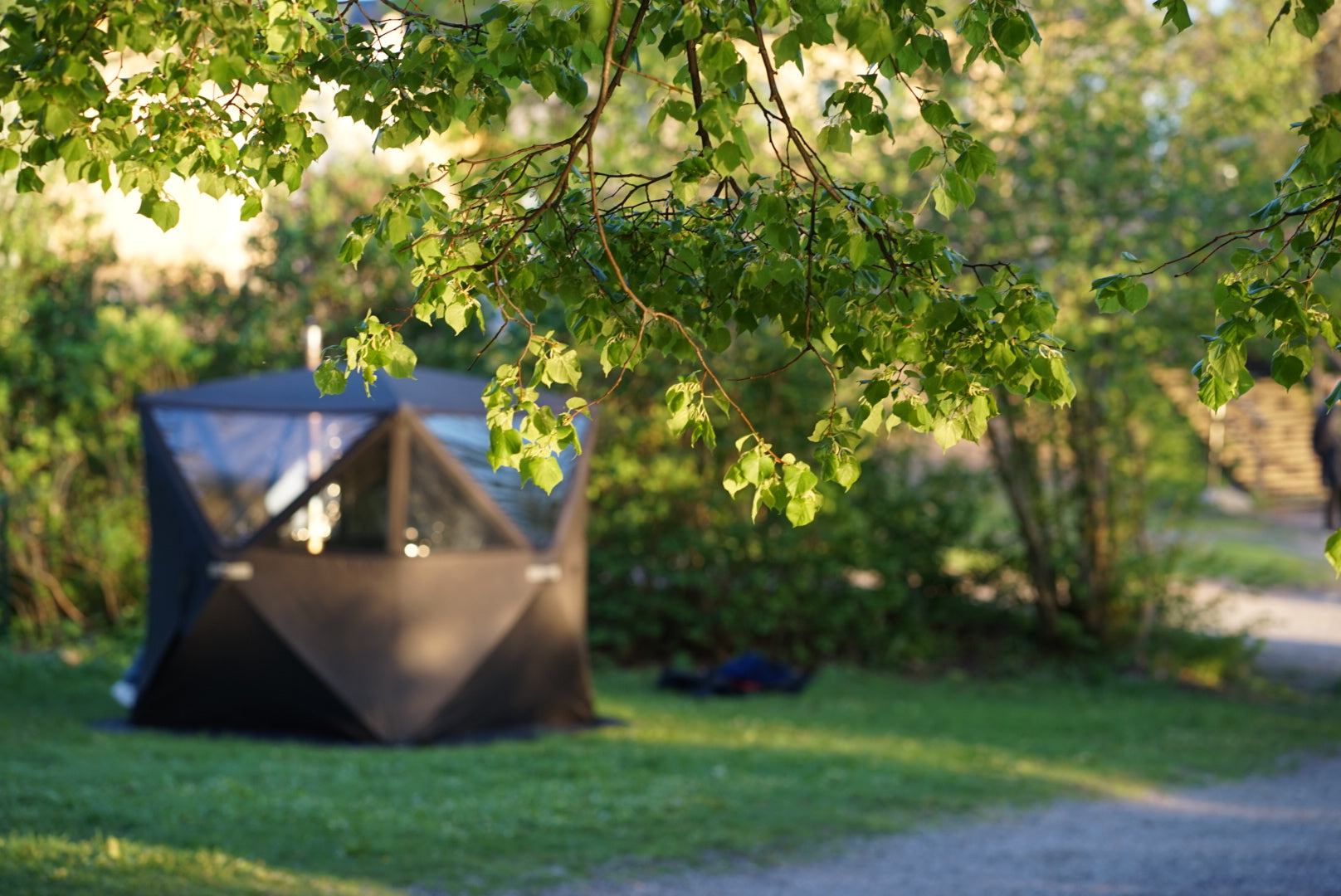 How can we help you?
Here we have listed some of our most frequently asked questions
A sauna tent is a portable sauna that can be set up and used at home, the cabin or wherever you want. Do you want to know more about our sauna tents? Read What is a sauna tent for more information.
No building permit is required for a sauna tent
Can be used at home and then transported to the cabin or whereever you want
You don't have to build your own sauna
Cheaper than building a traditional sauna
Sauna wherever you want!
What temperatures does the sauna tent reach?

The sauna tent can reach 90 degrees.
Is it a wood burning stove?

Yes! We recommend using dry birch wood for maximum effect and safety.
Is it safe with a sauna tent?

It is important to take safety into account, regardless of whether you take a sauna in a traditional sauna or in a sauna tent. Here are some safety instructions you should take into account when basing in a sauna tent:

Place the tent on a surface that makes it possible to fasten all eight of the tent's pins
It is important that the stove is on a stable surface for maximum safety
Make sure the air vent to the chimney is open
Use dry birch wood
Further safety instructions in included when makaing a purchase or rental

The material on our sauna tents is also waterproof and fireproof.
How many people does the sauna tent fit?

Up to six people at the same time.
How much does the sauna tent weigh in total?

The stove has a total weight of 21 kg and the tent has a total weight of 15 kg. A bag for the stove and tent is included which makes it easy to transport.
How long does it take to set up the sauna tent?

The tent can be set up in less than two minutes by pulling out the five sides. When the tent is up, it's stabilized by four pins in each corner and four ropes with associated pins for each wall. Then carry the stove in and assemble the five parts of the chimney. When the stove is standing firmly on the base, light a fire.
How long does it take until it gets hot?

The tent reaches sauna temperature in 15-30 minutes depending on the weather conditions.
How is the heat regulated?

The heat can be regulated by adding more fire logs, adjusting the air valve on the stove door, attaching the window covers, opening and closing the tent doors and finally - throwing water on the stones for increased humidity!
Does the sauna tent smell?

No! The sauna tent does not smell after use. But it is important to follow the care instructions to extend the lifespan of your sauna tent
How long does it take to cool down?

It takes about 30 minutes for the stove to cool down. If you want to speed up the cooling process, you can also throw water on the stones. But in order to extend the lifespan of the stove, let it cool down naturally.
Does the sauna tent fit in my car?

Yes! If you have a station wagon, it is enough to put down a seat to make room for a tent, stove, stones, bucket and benches. If you have a smaller car, you may need to put down two seats.
Orders are shipped within 48 hours of being placed and delivered within approximately 2-5 business days. Orders placed on weekends and public holidays are processed the next working day. We aim to deliver your order within the estimated timeframes, but delays may occur.
Your packages are sent with DHL and delivered to the delivery point closest to the delivery address specified.
Cancel or change an order

If you want to cancel or change an order, contact us at info@bastsauna.com and we will help you as soon as possible. Contact details can be found here .
Card payments on bastsauna.com are handled by our partner, Shopify Payments, to guarantee fast and secure payment. When you choose card payment, the amount on your credit card is reserved at the time of your order and payment is made only after we have approved the order.

You can pay for your order with the following payment options:

MasterCard

Maestro

American Express

SHOW

Klarna

Unionpay

Apple pay

Google pay
The money is returned to the same payment method that you used for your order.

E.g. if the original purchase was made with a credit card, we refund the amount to the same card. Refunds are made within 14 calendar days from when we received your returned sauna tent.
Do you rent out sauna tents?

Today we offer rentals to those who want to try a sauna in Stockholm, Luleå, Umeå, Allingsås, Eskilstuna and Västerås . Soon the opportunity will also be available in other cities. You can rent your sauna tent here.
How do I take care of my sauna tent?

Follow our care advice to extend the life of your sauna tent. You can read our care advice for the tent and the stove here .
Do you have additional questions?

bast are always available if you have any questions or concerns. If you have any questions about our sauna tents, pre-orders or rental, you can always get in touch. We welcome all questions. Contact us here .